About Us
TEJI's AWTAR MANSION is named after SARDAR AWTAR SINGH ANAND, the patriarch of the Anand Family; and his son SARDAR TAJINDER SINGH ANAND fondly known amongst family and friends as TEJI; who bought this bungalow from the British in 1947 after independence. The bungalow, located at the heart of Agra Cantonment, originally had more than 80 rooms. Over the years, it has been renovated to meet the changing to needs of the family and now stands in its present form.
SARDAR AWTAR SINGH ANAND came to Agra in late 1930's from Rawalpindi [now in Pakistan] on transfer as additional Garrison Engineer in Military Engineering Services. After India became independent in 1947 he left service to start his own construction firm under the name of AWTAR SINGH & SONS which went on to became a very well reputed construction agency. He was a highly respected member of the society and devout Sikh. During his life time he was honored by changing the name of the road on which AWTAR MANSION is located from Pensioners Road to SARDAR AWTAR SINGH ANAND ROAD in 1960, a rare honor for any living person.
The Present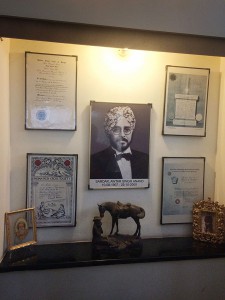 Located at the heart of Agra Cantonment, AWTAR MANSION is home to the Anand Family. The Bungalow has been lovingly restored in style with all modern facilities while retaining the feel of the British Raj era.
The bungalow also houses a small home stay facility which was conceptualized and developed by TEJI ANAND. The home stay is now run by his family and provides a comfortable and affordable stay along with the experience of living with a Sikh Family in their home.
With its mission of customer satisfaction, it has become a preferred location for stay by tourists wanting a true Indian experience as well as executives from large domestic and multinational companies. Awtar Mansion is a good starting point for your excursions to the city, historical monuments, local markets, temples, commercial hubs, eateries and restaurants.
With its heritage feel and lush green lawns, Awtar Mansion is a perfect blend of luxury, comfort and excellent value for money.